Incorporating YouTube Videos in Your Organic Search Strategy
Video content can often be an overlooked SEO opportunity for many websites. While quality video content can be expensive to produce, it is seemingly an untapped area for those hoping to improve their presence in the SERP. To further support the importance of YouTube videos, Webmaster Trends Analyst at Google, John Mueller, has recently provided some advice around YouTube, recommending shorter videos targeting specific topics.

In this article, we discuss where YouTube videos can appear in the SERP, strategies for improving site visibility in organic search, and more.
Where Can YouTube Videos Appear in the SERP?
YouTube videos are starting to appear in more areas of the SERP. YouTube videos can appear in video carousels (Figure 1), alongside rich result listings (Figure 2), and even in featured snippets (Figure 3). Additionally, YouTube videos were recently spotted in knowledge panels on the right-hand side of the SERP (Figure 4). They, of course, appear in the video tab (Figure 5) but also in the image results tab (Figure 6).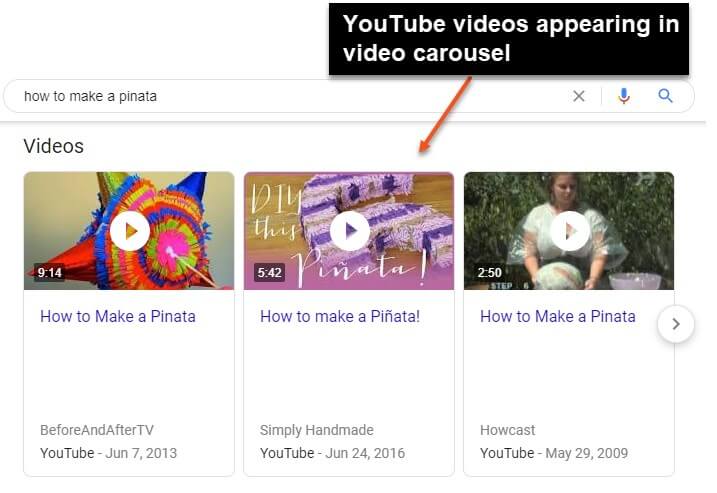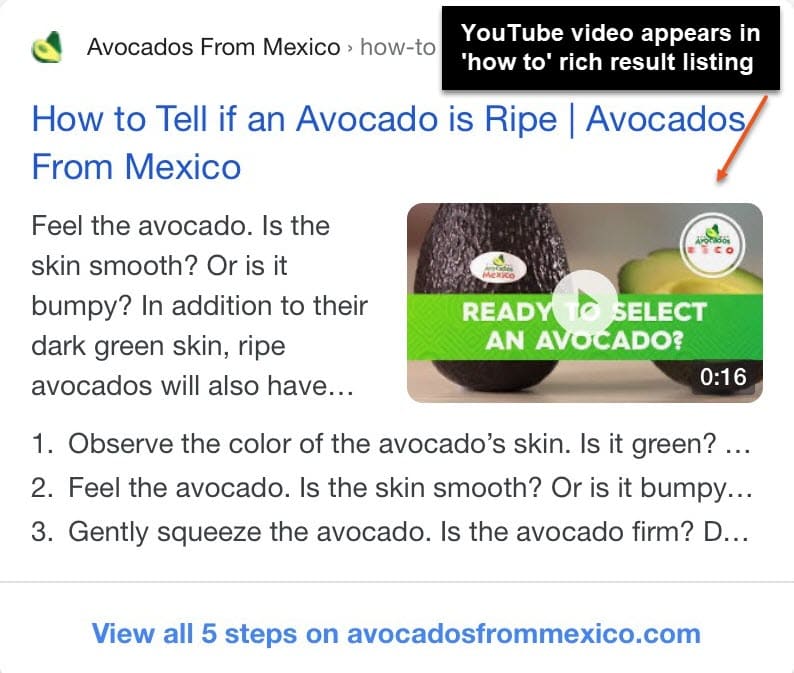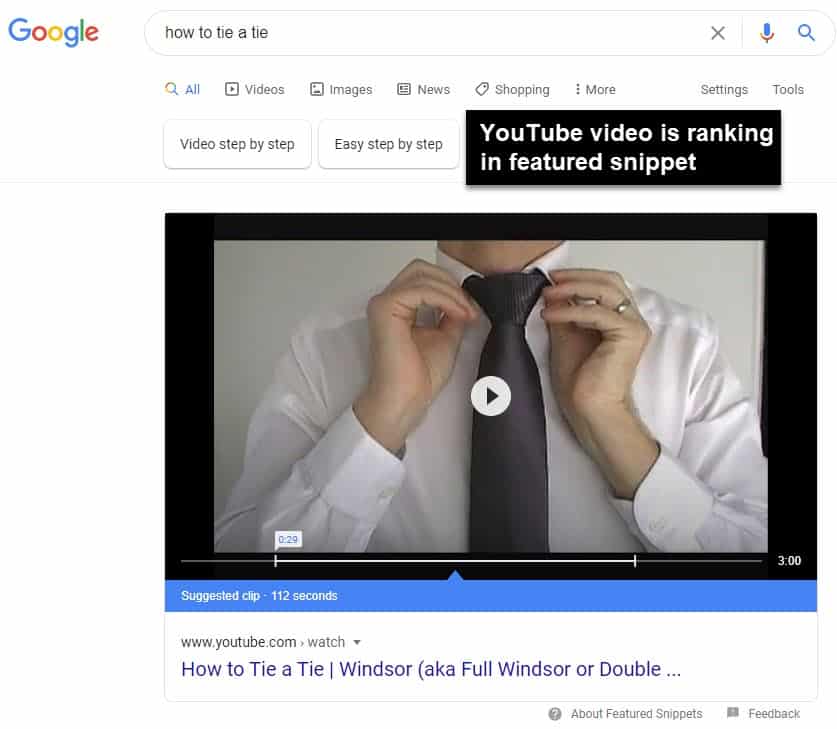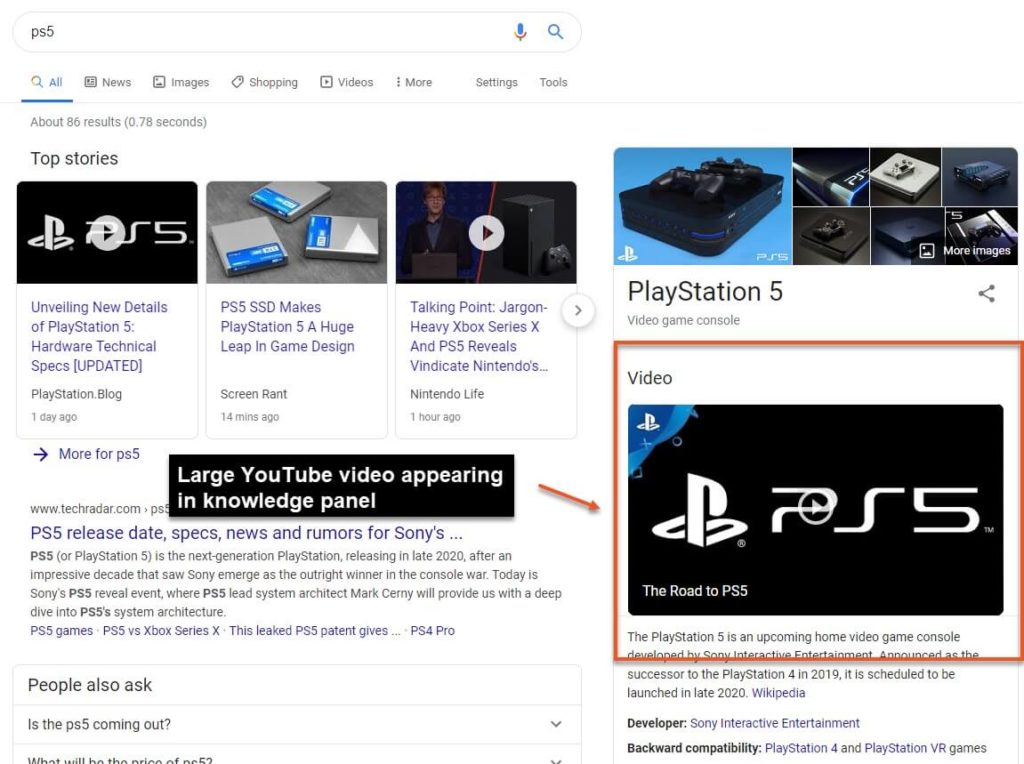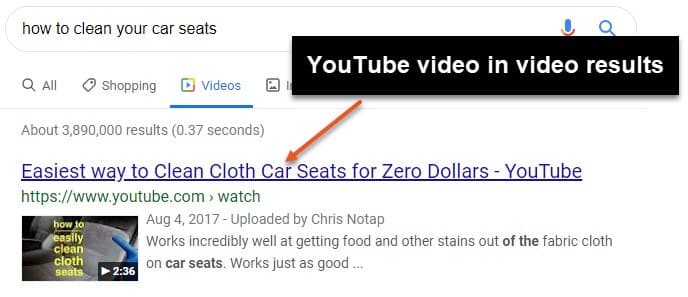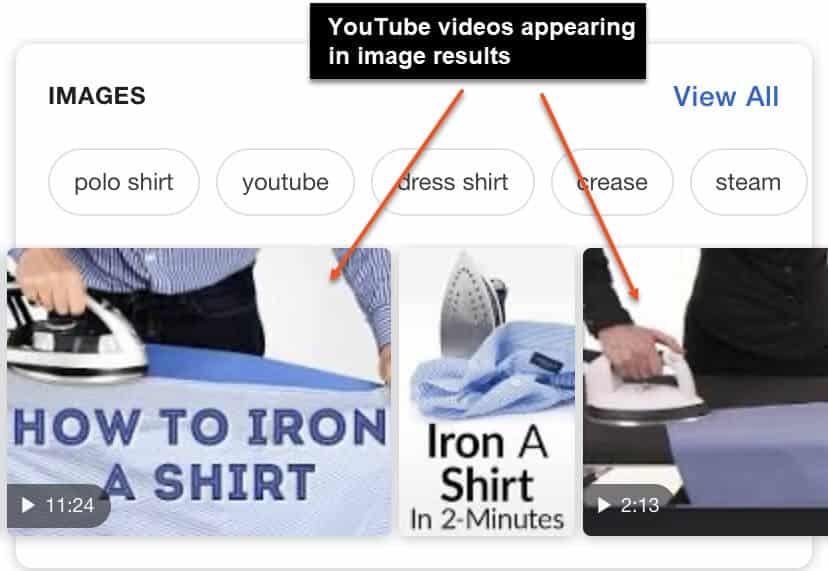 It's important to note that the examples above are only the most common areas for YouTube videos to appear. We've even noticed YouTube videos appearing in Related Searches results in the mobile SERP (Figure 7).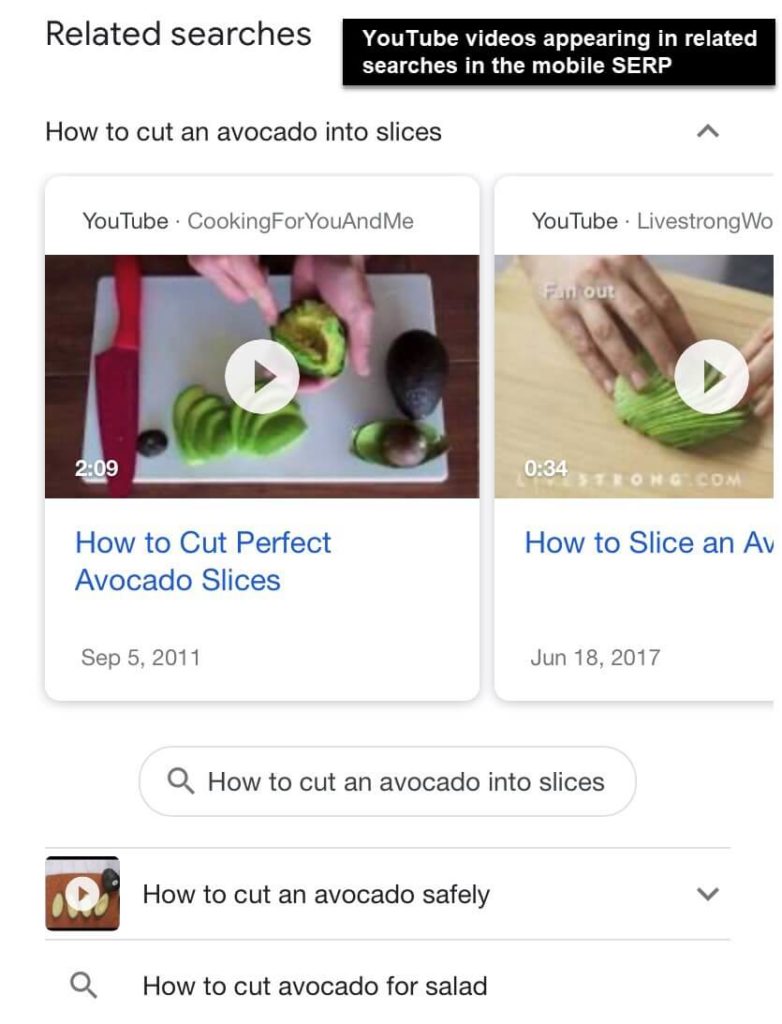 In addition, many SEOs have noticed that the SEMrush organic search report is reporting an uptick in YouTube videos appearing in featured snippets on Google (figure 8).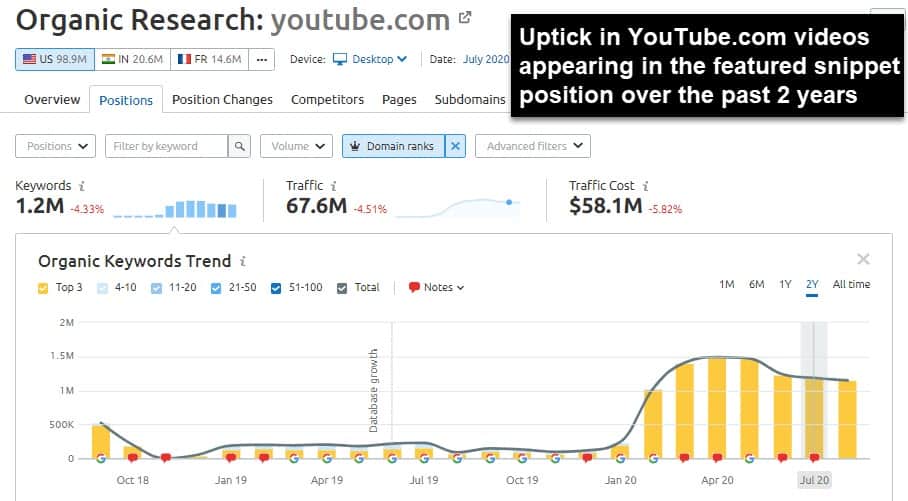 Comparing July 2019 to July 2020 – that's a 654% increase in YouTube videos ranking in the featured snippet position. Even though the trend has flattened in the last few months, it tells us video content is unlikely to go away.
Seeing more YouTube video results in the SERP, as SEOs, we naturally question what can trigger or promote the appearance of videos in these locations. While YouTube videos often naturally find their way into the SERP, there may be some optimizations you can make to your site to improve your chances of ranking a YouTube video in search results.
Leveraging Structured Data and YouTube Videos to Improve Organic Traffic
Some video SERP features may benefit organic traffic more than others. What separates this result from most of the others above is the fact that when the video is selected, it takes users to the site the YouTube video is embedded on, and not YouTube itself (Figure 8). This functionality is important because the other YouTube SERP examples listed above lead users to YouTube.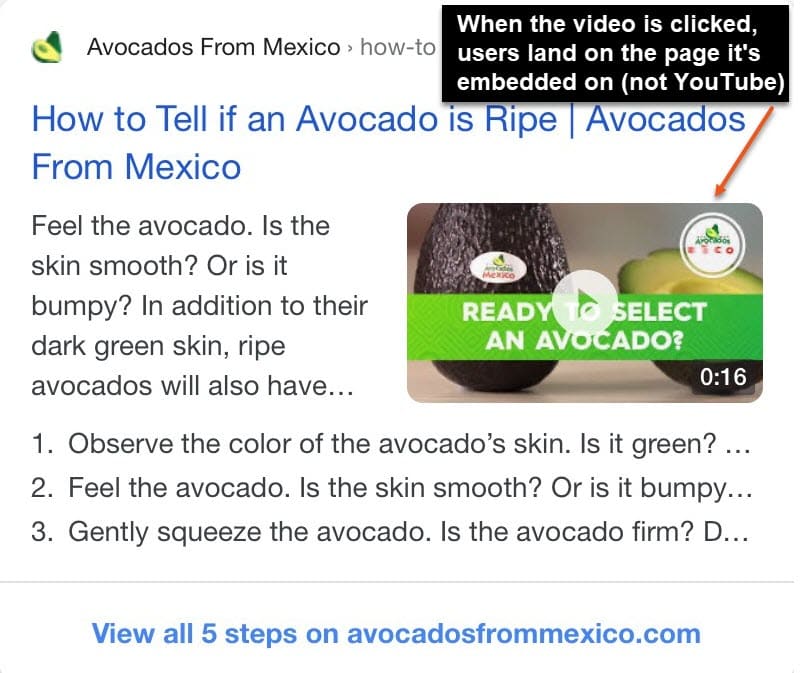 While it's great to drive traffic to your YouTube videos and channel, this use case allows you to increase traffic to your site, and the YouTube video at the same time as the video rich result can entice users to click on the organic result. It's also important to note that adding structured data can in no way guarantee these types of results, though it does seem to play in an important role in Google's understanding of the video content, and when to serve it. Embedding the YouTube video also seems to be key here.
Standard video structured data can also help videos appear in video search results, Google Images, and the Google Discover feed according to Google documentation.
According to Google, video structured data can trigger a variety of other rich results in the SERP like LIVE badges, clips, and video host carousels (depending on the video intent, and markup). All examples can be found in Google's documentation on video structured data.
But why is this all important? Do YouTube videos really provide organic search benefits?
Improved Video Results Presence in Google Search
As previously mentioned, while video content can often be expensive to produce, it's clear the benefits of incorporating your YouTube videos with your site's content can provide enhanced visibility.
But how much extra visibility will YouTube videos provide? It's hard to say, and every site is in a unique situation. Here's an example of a Merkle client that has seen a steady increase in video result visibility in recent months, which as you'll see, follows the trend of an overall organic performance increase (Figure 10):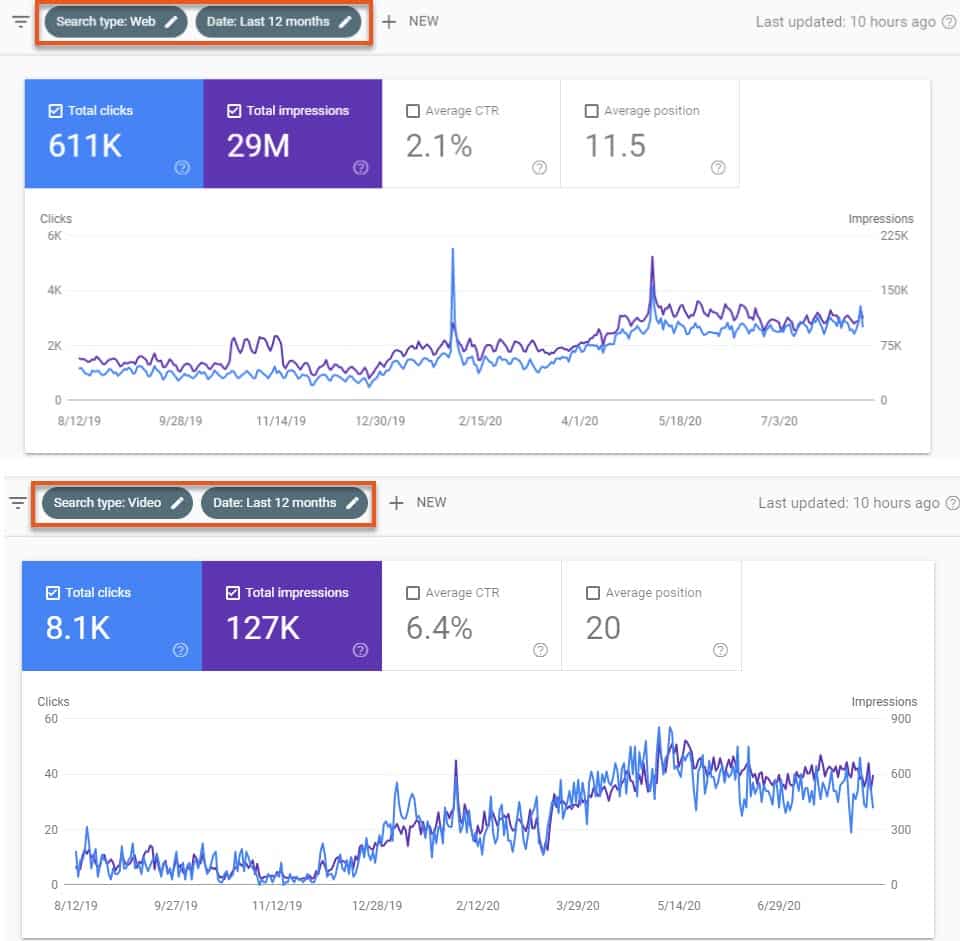 When comparing the month of July 2019 to July 2020 , video result impressions increased 436%, and video result clicks improved +353%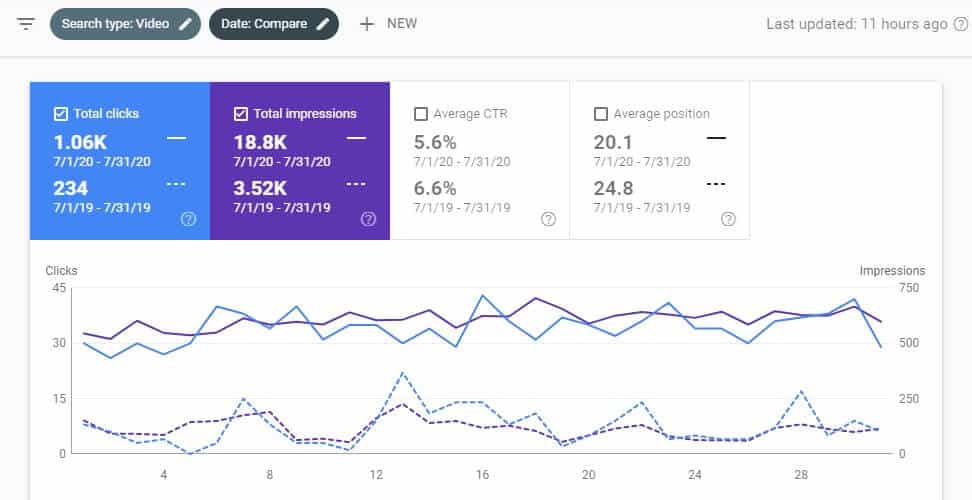 This site has seen increased visibility not only from new features in the SERP, but also from ensuring its videos are embedded on the right pages, and with the right structured data and content on the page.
We also see that clicks and impressions for pages which included videos in the all results tab of Google improved dramatically since early January 2020: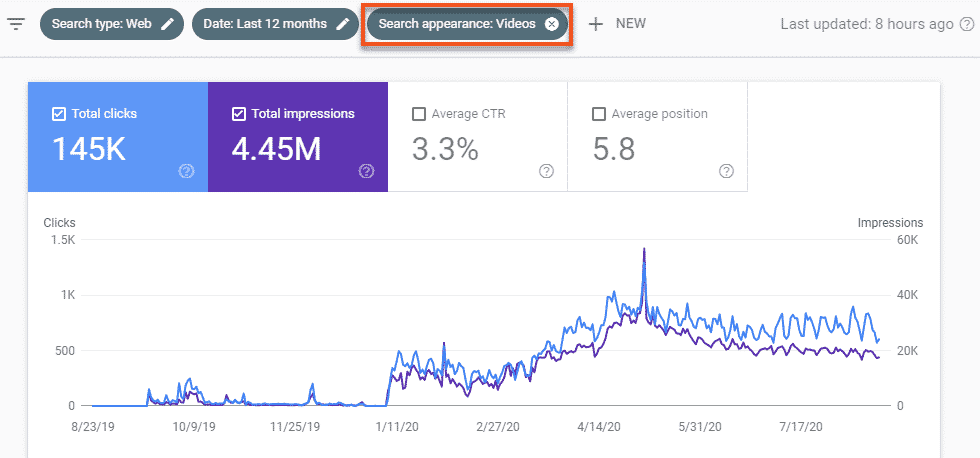 These improvements were not because new video content was added to the site, but rather because Google was able to recognize it better and serve it to more users. It's also possible that there were recent algorithm updates that placed more value on results that contained videos.
This data further suggests that YouTube videos and videos in the SERP aren't likely going away any time soon. In fact, on April 28, 2020, Google released the following YouTube feature test information:
" 'Products in this Video' experiment: to help viewers discover products, we're running a small experiment that will show to some viewers which products are mentioned in the video with new visual elements (overlaid on the video and below the video). For example, in a 'top 10 smartphones in 2020' video, some viewers will see an icon on the video, along with more information below, listing the phone models included in the video."
While this is currently just a test, if YouTube were to roll out the 'Products in this Video' feature, it could change the eCommerce video space significantly. This test is just another example of why integrating video content into your SEO strategy is becoming more and more important. Videos are appearing everywhere in organic search.
Conclusion
YouTube videos are becoming more prevalent in the SERP as Google continues to add features that serve these videos to users. While quality video content can be expensive to produce, video content is becoming more important for those hoping to improve their presence in the SERP and improve organic traffic. Including video content on the right pages of your site can be worth the effort.