We've officially kicked off the holiday shopping season! With Cyber Week marking the start of online sales, what are some early learnings that we can use to help guide the rest of the shopping season? Specifically, how does the organic shopping landscape look in 2019 and what does it mean for online marketers? Additionally, how has the rise of mobile devices impacted the digital shopping experience?
To begin, let's start with some Holiday 2019 forecasts and predictions from a report released by eMarketer. Overall, they predicted "mixed results due to economic uncertainty and shorter timeframe." They also included "strong online growth rates, and overall spending will reach milestones." As the end of the year approaches, there are some factors that will influence consumers' shopping decisions.
Positive factors: strong economy, low unemployment rates, healthy consumer confidence
Negative factors: rising tariffs, trade war discussions, volatility of the markets
With these factors in play, eMarketer provided the following high-level predictions:
Cyber Monday 2019 expected to be the largest online shopping day in history, approaching and possibly surpassing $10 billion in sales
Total retail sales to grow 3.8% to over $1 trillion, making it the first ever trillion-dollar holiday season
Ecommerce retail to grow 13.2% and surpass $135 billion
Early Reports on Cyber Week Results
Now that Black Friday and Cyber Monday have concluded, let's look at some early results for how the holiday season has unfolded.
Early December, Forbes's Senior Contributor of Retail, Andria Cheng, reported the following results for Cyber Week:
A record 190 million US consumers shopped those five days, an increase of more than 24 million from last year
About two-thirds visited stores while three-quarters shopped online
Consumers spent on average $362, 16% more than last year
Black Friday for the first time beat Cyber Monday in number of ecommerce shoppers by 10 million, totaling 93.2 trillion
A record $9.4 billion was spent online on Cyber Monday, a nearly 20% jump from last year and the biggest U.S. online shopping day of all-time
Black Friday inked $7.4 billion in online sales, making it the third-largest online sales day ever, after the last two Cyber Mondays
A report released by PracticalEcommerce focused on the growing contribution of mobile devices to ecommerce sales, stating that "adverse weather conditions in many regions and the ease of ordering via mobile devices contributed to record-setting U.S. digital sales for the 2019 Thanksgiving weekend." How else are we seeing mobile devices influence digital sales in 2019?
Black Friday
Smartphone sales on Black Friday, at $2.9 billion, were the largest ever for mobile shopping and were up 21% over last year
61% of all traffic came from mobile devices, and 39% of all ecommerce sales were made on a smartphone
Cyber Monday
Mobile transactions soared, with $3.1 billion — 33% — of total online sales coming from smartphones, equating to 46% more than in 2018
Similarly, Big Commerce reported that mobile orders came in at 49% of total orders, and they were the primary revenue source every day of Cyber Week except for Cyber Monday, on which mobile gross merchandise value (GMV) dropped to 41.6%.
Organic Challenges This Holiday Season
Despite the high forecast and strong start with Cyber Week results, this doesn't mean that every retailer will experience similar growth. On the contrary, the online shopping landscape has become more competitive, especially when you consider the shopping experience on mobile devices. When reviewing Cyber Week SEO performance for a sample of Merkle's top ecommerce clients, there were mixed results for organic traffic on Black Friday and Cyber Monday. While not a large sample size, the results can shed some light on how some industries may have performed better than others.
Black Friday (Y/Y Average % Change in Clicks)
| Industry | Change |
| --- | --- |
| Retail | 5.2% |
| Apparel | -16.1% |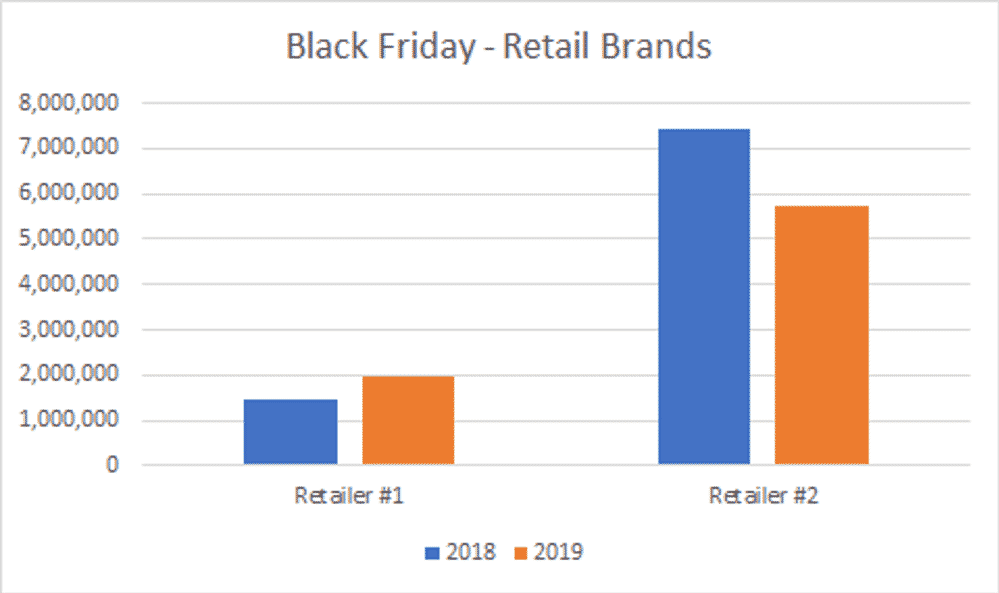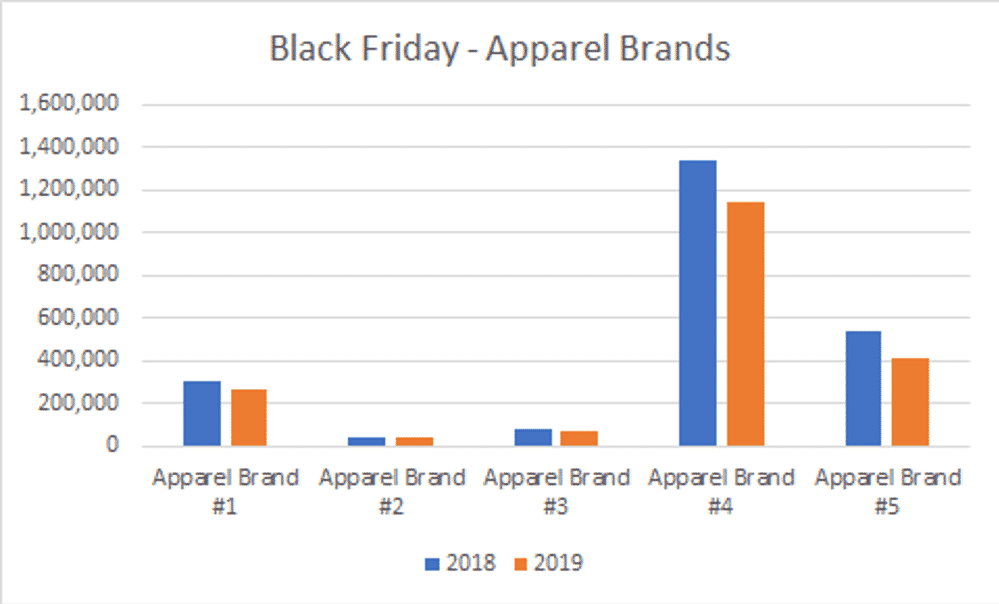 Retailers had year-over-year growth in organic traffic on Black Friday while every apparel brand reported year-over-year declines. On average, for organic traffic, the retail clients grew 5.2%, but apparel clients dropped -16.1%.
---
Cyber Monday (Y/Y Average % Change in Clicks)
| Industry | Change |
| --- | --- |
| Retail | 31% |
| Apparel | -15.6% |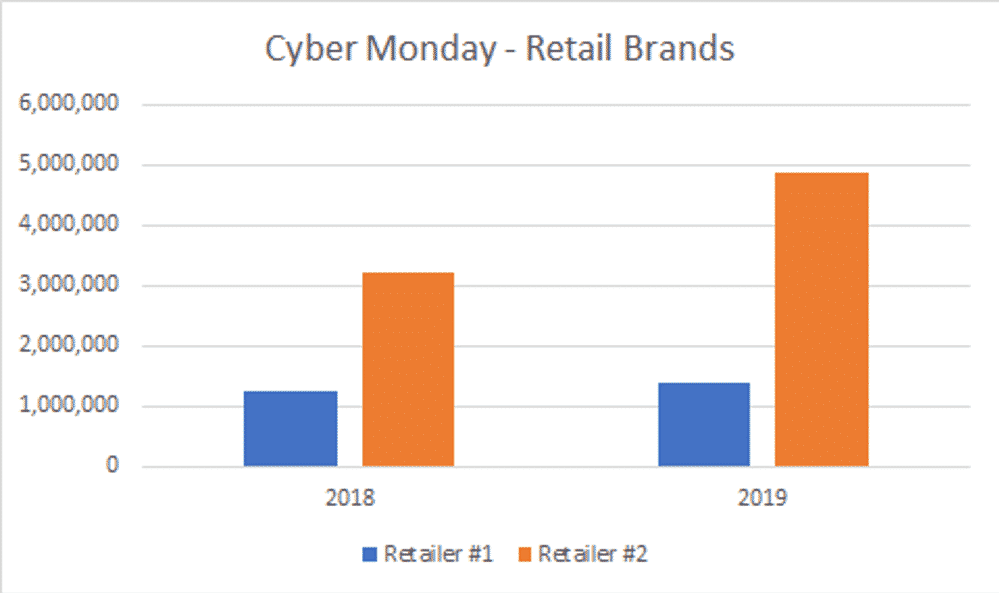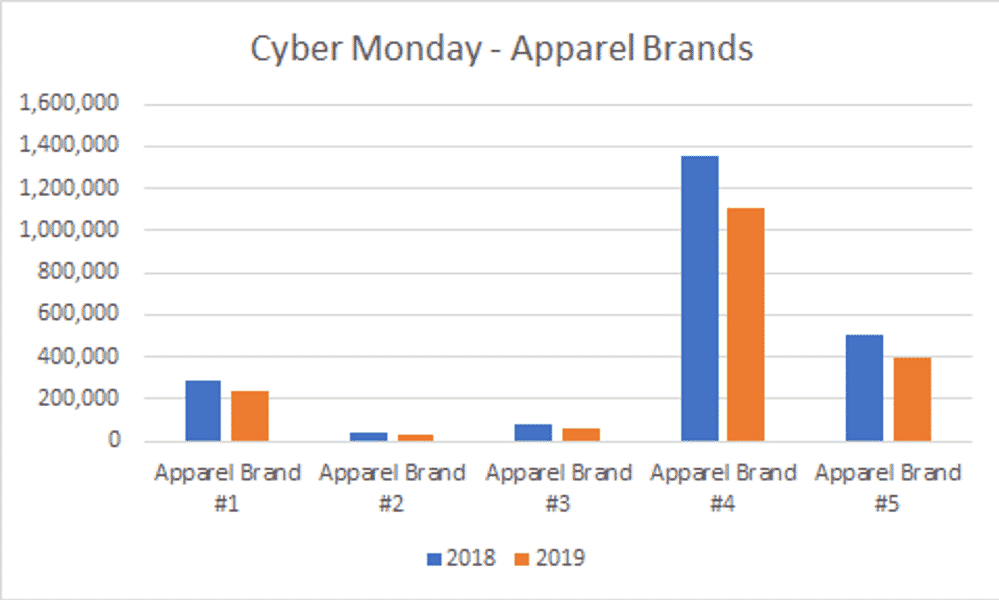 Similar to Black Friday results, retailers reported year-over-year growth on Cyber Monday, while every apparel brand declined. The average growth for retail brands on Cyber Monday was an astounding 31%, much more growth than Black Friday. The decline for apparel brands on Cyber Monday was similar but slightly lower than their Black Friday results, coming in at an average of -15.6%.
SERP Changes
One of the challenges we've seen is a highly-competitive SERP (search engine results page) that now includes many new visual features that can shift the attention of users. This is even more amplified on mobile devices, where some of our clients are seeing upwards of 65% of traffic from smartphones. The following screenshot shows the growth of SERP features on mobile results over the last year, specifically the increase of People Also Ask (PAA), News and News Carousels, Videos and Answer Boxes.

Some results pages are so cluttered with features that the first organic result is not visible unless a user scrolls three to four times on their smartphone. For example, a search on mobile could contain multiple types of paid ads (PLA, Showcase, Text), news articles, a local pack, and People Also Ask all above the first organic result. Not to mention that if the user were to click on a PAA, Google then displays additional results pushing organic listings even further down.
Others in the industry have experienced similar instances as shared by Ginny Marvin via Twitter:
Some results, like the one below for "gifts under $15," displayed multiple quick answer snippets, mixing both informational and shopping results.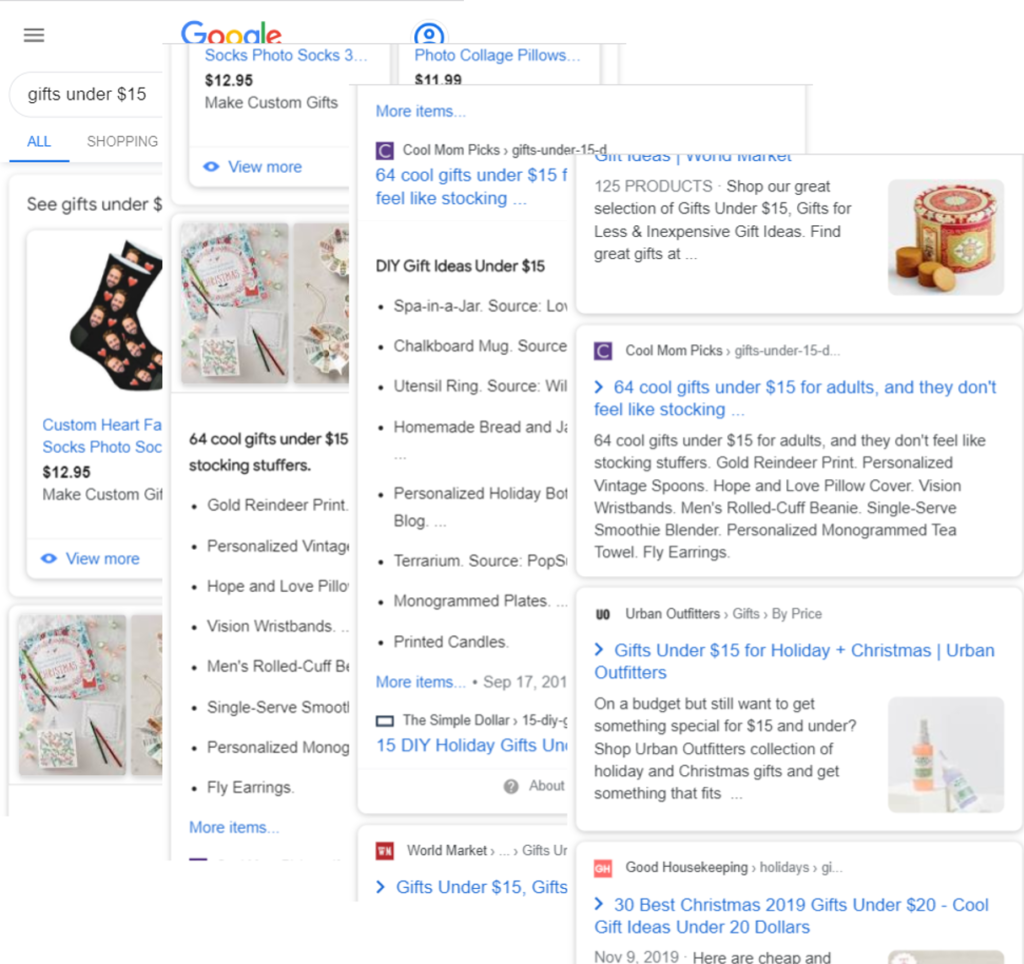 Other queries, like "bomber jackets mens," included new features that displayed shipping and return details for individual apparel brands. These features could help narrow down options for consumers directly in the SERP, potentially lowering click-through-rates for brands with less competitive shipping or return policies.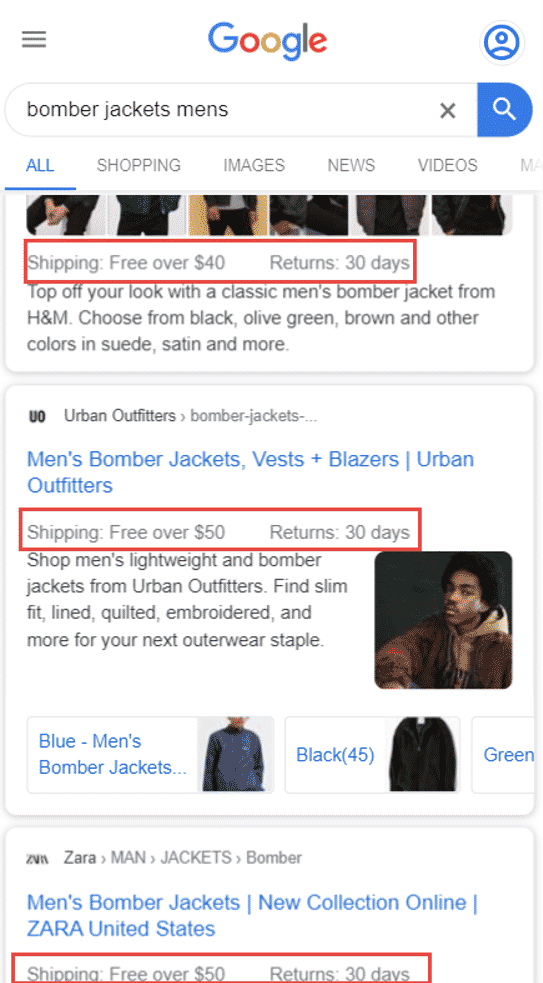 It seems that evolving search results have forced retailers into taking more of a "pay-to-play" mindset. In fact, PracticalEcommerce reports that throughout the holiday season, paid search has ranked highest for driving revenue, representing a 24.4% share of sales, followed by direct traffic at 21.2%, and natural search at 18.8%.
Organic Strategy Moving Into 2020
It's no surprise that digital shopping may hit many milestones this holiday season and the reliance on smartphones has become more significant than ever. So how can SEOs leverage these early Cyber Week findings to build a successful organic strategy to start 2020? Below are some tactics we've implemented with our clients this season:
Collaborate with other digital marketing teams, such as paid search channels, to supplement softening organic results with paid campaigns. If organic rankings have dropped or SERP features are pushing organic results down, adjust campaigns to build more paid visibility for those terms.
Be in communication with other channels to understand what strategies they have in place and see if you can learn anything from their results to improve your strategy. For example, is one specific ad copy performing better than others? Maybe you could use that copy to adjust on-page content or meta descriptions that encourage more organic conversions.
Target more long-tail, deeper-funnel queries where the user intent is to purchase and where search results have a less cluttered landscape. Don't simply list all products on a single category page. Instead, be very purposeful with your product categories and ensure you have targeted meta data, on-page content, contextual linking, and product details.
Use internal search data to capitalize on unexpected trends. Expand your subcategory pages to help target these products, open internal search pages to indexation, or expand refinements for these trending products. At a minimum, ensure products can be tagged so users are able to shop when searching internally on a site.
Target new SERP features (e.g. PAA, Answer Box, Images, etc.) to gain more brand awareness and visibility higher on results pages. These features are often populated from blog-style content and higher up in the conversion funnel but, with an effective user experience and internal linking to related products, could help lead to conversions further down the road.
As the search landscape evolves, we must also be flexible and shift our strategies to capture more visibility in the ever-changing search results. Have you seen similar results this holiday season? What are some strategies you're taking with your clients to optimize SEO and help reach their holiday ecommerce goals?